★ Birthday and celebration ★ Letter plate Hole cake course 9 items 3000 yen (2h drinking attachment 4000 yen)
Course details
★ Birthday and celebration ★ Letter plate Hole cake course 9 items 3000 yen (2h drinking attachment 4000 yen)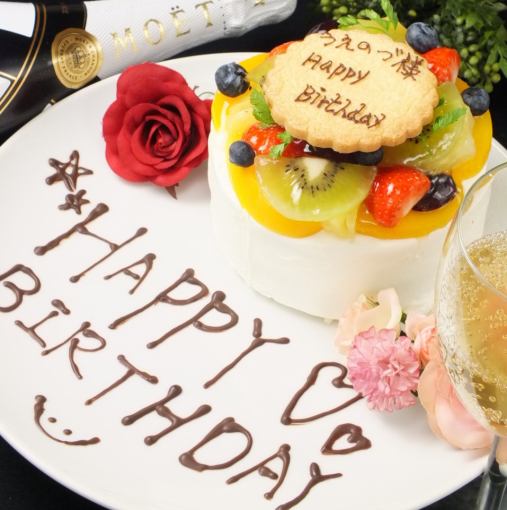 3000 yen
All you can drink with 4000 yen Tax price
All-you-can-drink available

2 hour system (LO. 90 minutes) All-you-can-drink all-you-can-eat ♪
Reservation deadline

Visit of hope the day before until 23:00
Available days for reservation

Monday - Sunday - Public holidays - Holidays
★ Farewell reception party privileges ★ Perfect for every birthday or celebration! Surprise with hole cake with reservations from 4 people! (For desserts of 2 or 3 people will be a dessert plate.) Vegetable vegetables and chicken Burna cauda with seasonal vegetables boasted, and other dishes are also very satisfied.All you can drink is 4000 yen and over 100 kinds of cocktails etc. are available!
Course menu
Marinade to Tomato ■
■ Salmon Carpaccio ~ Add colorful vegetables ~
■ Grilled Avocado Tomato
■ Bagna cauda of seasonal vegetables
■ Pumpkin soymilk cream soup
■ Prawn shrimp with mayonnaise
■ Eggplant and tomato cheese grilling ~ Milfeille's tailoring ~
■ Sweet tomato and bacon pasta
■ Bird's Cake (for 4 people)
* For reservations with 2 to 3 guests, it will be dessert plate.
Please note.
----------------------------------------------------------
◎ course of your description ◎
※ You can use up to 20 people in the store digging tatami mat
· All-you-can-drink all-you-can-drink 2-hour system (LO.90 minutes)
★ Farewell reception award ★
Secretary's choice of privileges
【1】 Over 10 people + 500 yen All you can drink 2H → change 3H
【2】 Japanese sake or shochu or wine bottle gift (with message label)
【3】 Luxury bouquet arrangements
【4】 Dolce message plate
※ Dolce ... Each group 300 yen, Hall cake ... Each group 500 yen
Advance consultation ♪
· Blackboard message OK ★ You come to the store in advance, you can use your favorite message ♪
⇒ All courses are available ♪ Please contact the store 3 days in advance for all benefits!
All-you-can-drink menu
·beer
· Premium Malts draft beer / Asahi middle bottle / Middle bottle / Shandigafu / Red Eye / All free
· Rickey & Ginger sake
· Cassis Rickey / Kalua Rickey / Middle Ricky / Pesche Ricky / Ginger Oolong / Ginger Coke / Ginger Orange / Ginger Ginger / Ginger Tonic / Ginger Grapefruit
·sour
· Calpis Sour / Lime Sour / Lemon Sour / Black Oolong Hi / Oolong Hi / White Sour / Ice Tea Sour / Cider Sour
· Fruit wine · Ume plum (rock · water · soda)
· Minami Takashi sauce / Brown sugar plum wine / Yuzu plum wine / Nigori plum wine / Yamanashi giant sake / Ginger sake /
- Rice wine
· Soul Makgeolli (Glass) / Cassis Makgeolli / Grapefruit Makgeolli / Acerola Makgeolli
·Cocktail
· Cassis Orange / Cassis Soda / Cassis Oolong / Cassis Grapefruit / Melon Ball / Yogurt Orange / Mango Yang Orange / Paraiso Soda / Campari Orange
Soft drink non-alcoholic cocktails
· · · 【Sofudori】 Oolong tea / black oolong tea / ginger ale / cola / grapefruit juice / calpis / calpis soda / acerola juice / pineapple juice / apple juice / mango juice / ice jasmine / [non-rare] red squirrel soda / cinderella / saratoga cooler / To Tomato / Mango Orange / Cassis Orange etc.
· Japanese sake · Shochu (with rock, water split, hot water)
· 【Potato shochu】 Black circle / Purple spirit / Black Kirishima 【Wheat shochu】 Yae Namaru / Furusawa / Nikaido 【Shoji Shochu】 Kokoro shochu 【Brown sugar shochu】 Amami / 【Japanese sake】 Senkaku /
· Whiskey · Bourbon
· High Ball / Tris High Ball / Horn High Ball / Ginger High Ball / Yuzu Hi Ball / Cork High Ball / Plum High Ball / Beam Soda / Beam Cola / Beam Ginger
Wine wine cocktail
· Glass wine red · white / keel / kitty / wine cooler / California cooler / sangria red · white
2018/08/15 update